March 2022 Tourney Vancouver
Registration closed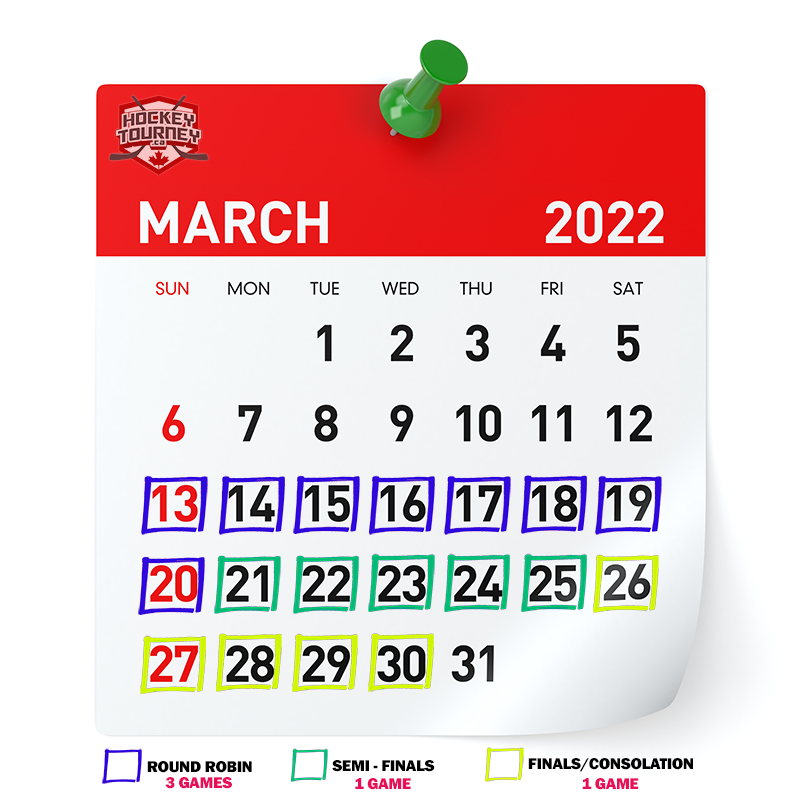 ---
Divisions
Minimum Two divisions , finalized after the Round Robin.

Game Format
FIVE Games Guaranteed
Games are 1 hour in length, with two referees and a scorekeeper. Championship Games are 1.25hr
Stats provided online
Stick infractions are double minor
Point System scoring used in Round Robin
2 points – win the first period
2 points – win the second period
2 points – win the third period
6 points – to the team that wins the game
1 point – shutout
1 points – for the team with the least penalty minutes
Maximum per game of 14 points
Team Ranking
All teams will play three Round robin games then based on their points the top teams will split into appropriate divisions to play Semi-Final and Final or Consolation games.
We have the right to move teams into a division best suited for their team.
---
Schedule
Important Schedule Information
Schedule Preferences will be given to teams that sign up early.
Players MUST play at least one Round Robin game to play in the last two (semi or finals). Teams can choose to carry up to *20 players on their roster (if a team needs more this will be extended to all teams)
Insurance – Liability and sport accident coverage can be provided for $150 per team. This tourney only carries liability insurance for the organizers. If you would like to purchase insurance for your team please contact us and we will put you in touch with our provider
Make sure you select the right season

---
What team am I on?
NOTE There are no random subs allowed on teams. Teams must submit their roster by March 10, 2022 (max 20) players who may or may not play. Players not on the list will not be permitted to play. Players must play one round robin game to qualify for semi or final game. Consolation games are exempt No exceptions. ID and Vaccination will be checked.
Sign up below!
---